PP-Bizon CS:GO skins are not one of the most popular SMGs in the game, but it can be useful from time to time thanks to their low price and combination of features.
The gun shoots really fast, having an rpm of 750. Its damage against unarmored units is good enough to kill with 3-5 bullets. But if the target is armored, you can need up to 7 in a worst-case scenario.
PP-Bizon skins tend to look amazing because of the weapon's shape, which allows designers to go wild. But they also tend to be relatively cheap because they never generate a lot of interest.
In this guide, you will learn about some of the best PP-Bizon CS:GO skins and the cases you'll need to open to find them. In most cases, the cheapest method of getting one is to buy it directly on Tradeit.
1. Judgement of Anubis
This skin depicts Anubis, an Egyptian deity, and has a very impressive design. The head of Anubis is positioned so that when you press the trigger. It makes it look like you're making the deity open his mouth and shoot bullets at your opponents.
The colors used are yellow and dark blue but there are also some red dots here and there. Giving the other colors something to contrast with.
This skin belongs to the Chroma 3 Case, which is quite common, and the price reflects that. Despite its Covert rarity class, you can have this skin for just $10 if you buy the Factory New model. But you could purchase the Minimal Wear or even Field Tested versions and it would still look cool.
2. High Roller
This Classified SMG skin beautifully depicts the cards and chips theme and makes you feel like you're throwing the dice whenever you pull the trigger. Which is a powerful metaphor for any CS:GO duel.
The colors used for the design are red, green, white, and black. This is easily one of the most memorable skins you'll see in CS:GO and the price is below $10, even for the high-end models.
This skin can be found in the Spectrum 2 Case. But considering its rarity, it's probably better to just buy it directly.
More about High Roller here on Tradeit.gg.
3. Space Cat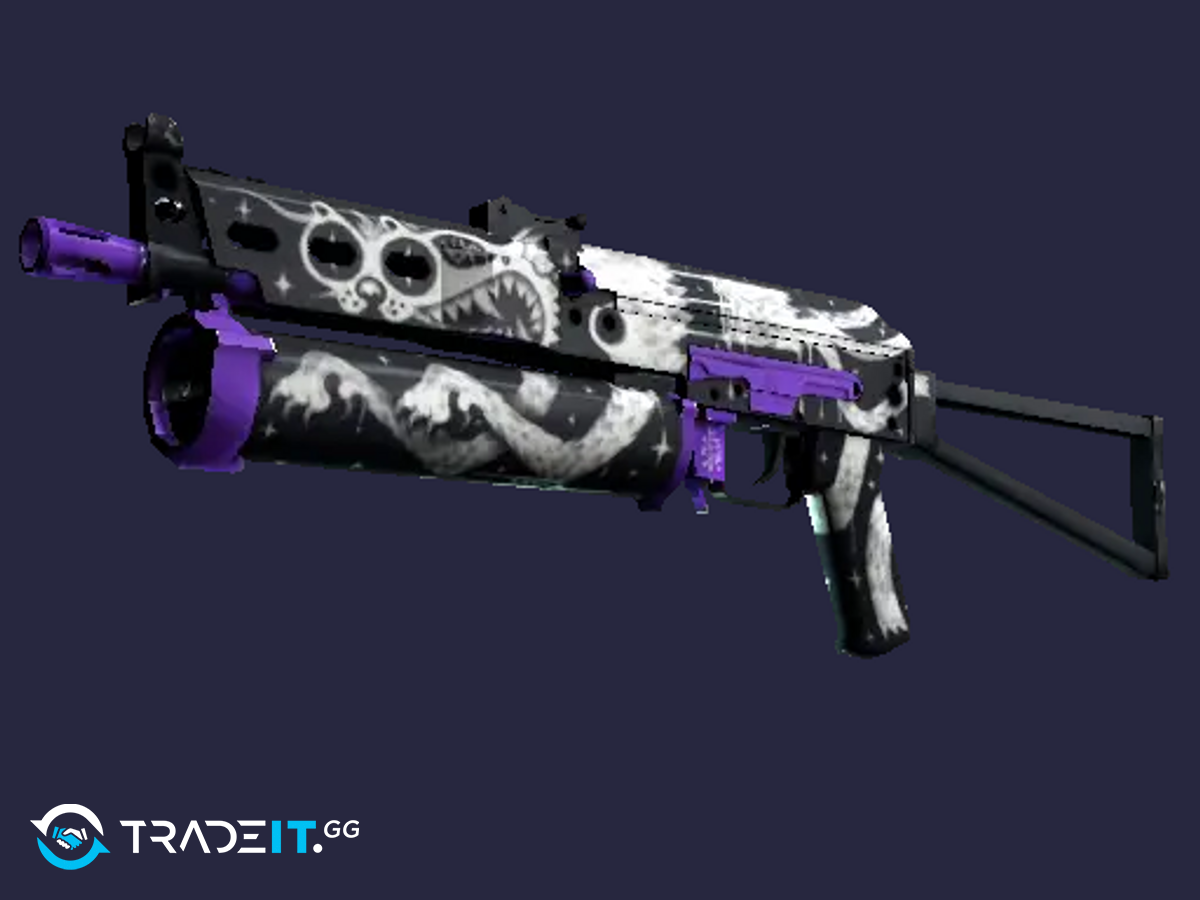 Space Cat depicts a modified cat that has lovely eyes and seems to be attacked by a terrifying dog. The skin makes smart use of the black-and-white combination, but it also adds a little bit of purple for contrast.
This Restricted SMG skin can be found in the Dreams and Nightmares Case and costs less than $2. However, it looks very impressive. This one is perfect if you want cool skin for your PP-Bizon without spending too much money.
Fuel Rod CS:GO skin, from the Revolver Case, seems to completely transform the PP-Bizon into a Necron gun from Warhammer 40K. The designer did an excellent job, and his vision comes to life beautifully.
The price of the skin is under $4, and because of the intensive use of black, you can purchase even a Field-Tested or Well-Worn model, and it will look alright. With just $1-$2, you can own one of the best PP-Bizon skins in the game.
5. Blue Streak
This PP-Bizon skin uses the aquatic theme and gives the gun a unique look, making it feel like it's full of water that turns into ice when you shoot.
Despite being just a Restricted SMG skin, the price reflects that the case in which it can be found, eSports 2014 Summer Case, is quite rare.
Because of the color mix and how the patterns were used, this skin should be purchased with a float value that's relatively low if you want to preserve all the beauty. A Minimal Wear or Factory New model is highly recommended.
More about Blue Streak here on Tradeit.gg.