The CZ75-AUTO is a CS2 weapon that provides exceptional firepower and accuracy from close range. This gun is typically bought in force-buy rounds where the objective is to overwhelm a position and take out two targets before the other side can respond.
There are numerous interesting skins for this weapon, and in this guide you will discover 10 of the best CZ75 skins in CS2.
Key Takeaways
Learn more about the best CZ75 skins in Counter-Strike 2.
Top 10 CZ75 Skins in CS2
Here are some of the best CZ75 skins in CS2:
1. CZ75 | Crimson Web
This is one of the most elegant CZ75 skins available, and its price is quite low relative to its quality.
TIP: See a complete list of CS2 skins on Tradeit.
2. CZ75 | Chalice
Chalice is one of the best skins for this weapon, but it costs a lot of money. For collectors, it's a must-have.
TIP: Discover the most expensive CS2 knife.
3. CZ75 | Tread Plate
This simply skin gives your CZ an excellent metallic aspect.
4. CZ75 | Yellow Jacket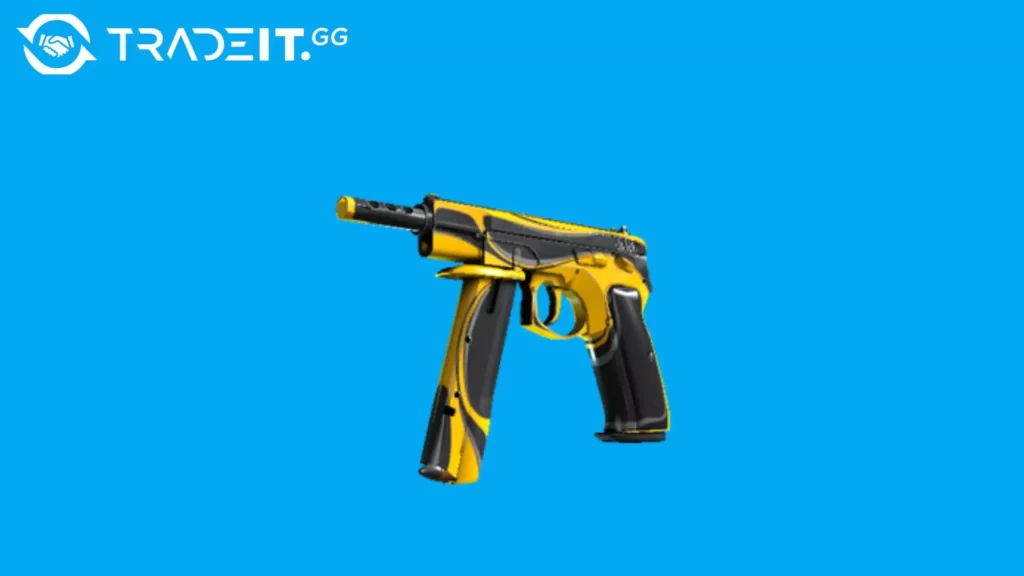 If you want to stand out instantly, this is the perfect CZ75 skin to buy.
TIP: Discover the most expensive CS2 skins.
5. CZ75 | Emerald
Emerald is a one-color CZ75 skin that lives up to its name.
TIP: Discover the cheapest CS2 knife.
6. CZ75 | Red Astor
This is a more sophisticated attempt to turn the CZ75 into a more eccentric weapon.
7. CZ75 | Xiangliu
The Chinese colors and symbols on this skin are truly remarkable.
TIP: Learn about the best knives in CS2.
8. CZ75 | Nitro
Nitro is very basic, doesn't cost very much but gives your CZ an upgraded aspect.
TIP: Discover the cheapest CS2 skins.
9. CZ75 | The Fuschia Is Now
This is another rare skin that's worth buying if you use the weapon regularly or are interested in building a prestigious CS2 skin collection.
View CZ75 | The Fuschia Is Now
10. CZ75 | Tigris
This is a menacing skin, designed for those who enjoy looking wild on the battlefield.
Summary
Counter-Strike 2 offers numerous CZ75 skins. This guide showed you 10 of them. To see more examples, Tradeit's wiki is where you should search for them.
Frequently Asked Questions
Which CZ75 skin is the best?
Chalice.
How can I get CZ75 skins?
Tradeit and the Steam Market are excellent places where you can buy them. The alternative is to open cases.