The P2000 CS:GO is one of the most commonly used pistols by the Counter-Terrorist team in Counter-Strike: Global Offensive. Despite its slow rate of fire, this gun deals excellent damage and is easy to control.
Many players prefer to use the USP-S, but the P2000 is just as good if you know how to shoot. It kills with one bullet against unarmored targets if you can hit a headshot, and the fact that it's easy to control makes headshots more likely.
 If the target is armored, and you can't hit a single headshot, you will need to shoot the target 4-6 times to get the job done. High-level players have a high headshot rate, so they're not very worried about this problem. In their minds, three bullets are all they need.
As you can imagine, the number of P2000 skins is high. Any weapon highly utilized in CS:GO comes with dozens of high-quality skins but some of them are better or more prestigious than the rest. In this guide you'll learn about five of the best P2000 CS:GO skins.
1. Ocean Foam
By far, the most expensive and popular P2000 skin is Ocean Foam. It costs somewhere between $150 and $200, and you can also buy a StatTrak-enabled version. But the price is relatively high: $400 – $600.
This skin belongs to the famous Bravo Collection, which automatically makes it extremely rare. The rarity is increased even further by the skin's rarity class, Classified. The math looks quite bleak: you have a chance of less than 4% to obtain this skin when opening a case that costs more than $50.
You could easily spend more than $1000 trying to find the Ocean Foam skin via the case-opening method. It's much better to buy it directly on Tradeit. Almost any model will look great and preserve its value in the long term, but the Minimal Wear and Factory New ones are highly recommended.
As the name suggests, Ocean Foam uses a nautical theme. The top side of the gun looks like water, and the weapon's name is imprinted on it. This skin is hard to confuse with the rest.
2. Pathfinder
Pathfinder belongs to The Gods and Monsters Collection. Its visual design is quite common inside this collection and utilizes the labyrinth symbol. The result is quite powerful and has instant appeal.
The price of the skin ranges from $5 to $20. It all depends on what float value you prefer. Ideally, if you want to keep the labyrinth patterns intact, purchase a Field-Tested model.
3. Silver
Silver belongs to The Office Collection and is a Mil-Spec grade pistol skin. Its cost is quite low, so that you can get even a Factory New model for less than $10 – $15.
Visually, this skin lives up to its name and turns the P2000 into a gun that seems to have been polished with silver. If you like the way silver looks, you'll be very pleased to own this skin because it implements this theme perfectly.
4. Fire Elemental
This Covert pistol skin can be found in the Operation Vanguard Weapon Case, which is quite common. The price ranges between $5 and $20. But if you're interested in the StatTrak model, it can surpass $100.
The theme of this skin is the fire elemental, hence the name. To create a bit of contrast, the designer utilized a strong blue as the first color or the background of the elemental. The overall impressive effect will make you feel good while carrying the weapon.
More about the Fire Elemental skin for CS:GO here.
5. Chainmail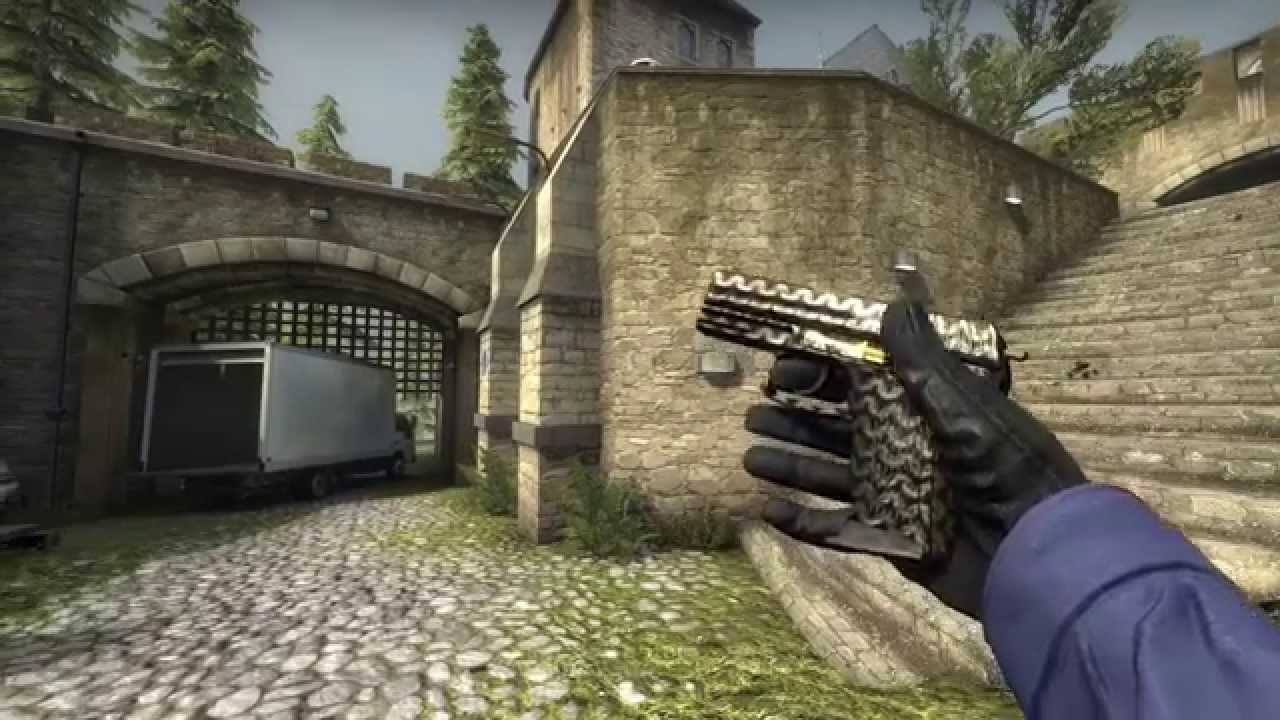 If you love warrior themes or RPGs, this P2000 is ideal. It is quite expensive if you want to buy the standard version: $40 – $100. However, you can also buy the souvenir version, which is a lot more expensive. You can have a low float value model for less than $10.
This skin belongs to The Cobblestone Collection, which means you'll need to open Cobblestone souvenir packages to get it. But those packages are costly because they contain the Dragon Lore AWP. The best solution, by far, is a direct purchase.
By owning this skin, you basically own an item from one of the most prestigious skin collections in CS:GO.
Visually, Chainmail makes the P2000 look like it's been dressed in chainmail. In turn, this will make you feel a bit better protected. The psychological effects of this skin are quite interesting.